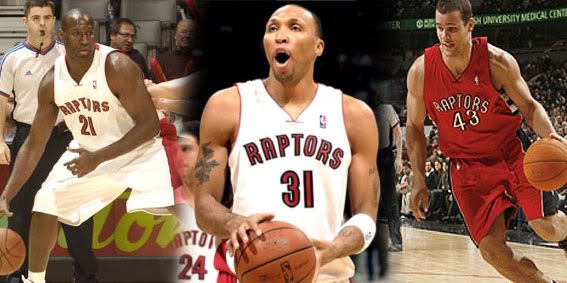 In this latest installment of "To All The Raps We've Loved Before", we're featuring three former Raps who are now down south in Dallas, TX this NBA season. Shawn Marion, Kris Humphries and Nathan Jawai who were involved in the Hedo Turkoglu sign and trade from this past offseason are all now in Dallas with Mark Cuban.

So in order to get update on this year's newest Mavs,
Rob from
The Two Man Game
and
Hardwood Paroxysm
gave us an update on how these guys are fitting in with their new team: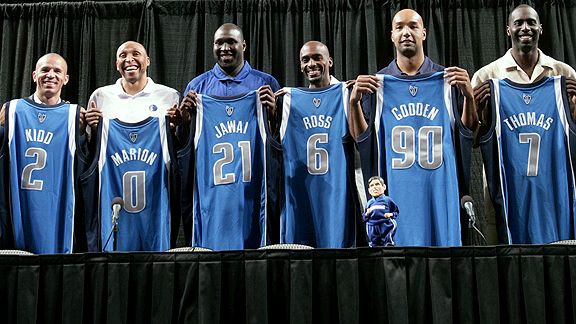 First up, we have
Shawn Marion
. Marion was traded from Miami to Toronto for Jermaine O'Neal at last season's trade deadline and was Bryan Colangelo's answer for the Raptors' small forward dilemma. He was a nice fit for the Raps and was also an unrestricted free agent at the end of the 08-09 season, so if things didn't work out, the Raps had the option on whether or not to sign him in the offseason. As a Raptor, he made an immediate impact; but came in a little too late as the Raptors finished off their 08-09 season missing the playoffs. It was a short stay, but he did make his mark with a nice
highlight dunk
on Danny Granger. Now in Dallas, Marion will play alongside veterans, Jason Kidd, Jason Terry and Dirk Nowitzki.
Rob on Shawn Marion's role in Dallas:
""Shawn Marion, Kris Humphries, and Nathan Jawai are all at very different places with the Dallas Mavericks.

Marion was the summer's prime acquisition, and is considered by those within the organization to be the the difference between last season's result and true contention. He's seen as the defensive stopper the Mavs have never really had, an ideal running mate for Jason Kidd, and a nice wing complement to Josh Howard. He's done plenty to back up that reputation with his preseason performance, in which he's scored with startling efficiency and done what Marion has always done best: find easy baskets where no one else can, and create more offensive opportunities with his defense."

Kris Humphries
, who played three seasons with the Raps, missed the second half of last season with a shin injury.
Rob on Kris Humphries:
"Humphries was considered by most to be a "throw-in" in the Mavs' trade for Marion, but he's endeared himself to the fanbase with his point-and-rebound-a-minute pace in the exhibition games. He's earned himself a deserved spot as a wild card in the center rotation., and he's my pick to be the biggest surprise success in the Mavs' rotation."


Nathan Jawai
aka "The Aussie Shaq"(?) was the big Aussie centre who didn't see much time as a Raptor and spent some time in the D-League last season developing his game. He also missed the first bit of last season with a heart abnormality but was cleared to return last December.
Rob on Nathan Jawai:
"Jawai isn't so lucky. In theory, the Mavs could use a young center with a bit of promise. But Jawai doesn't have the undeniable potential or tangible short-term contributions to warrant a roster spot. He's been a virtual non-factor through training camp and the preseason, and the only way he makes it on to the regular season roster is if Donnie Nelson can trade away or reach a buyout with Maverick non grata Shawne Williams. Otherwise, Williams' bigger contract will dictate company policy."

Big ups to Rob for his updates on the former Raps, check him out at The Two Man Game & Hardwood Paroxysm.
Photo credit: Glenn James/NBAE/Getty Images